Animal Concerts – Updates For 2022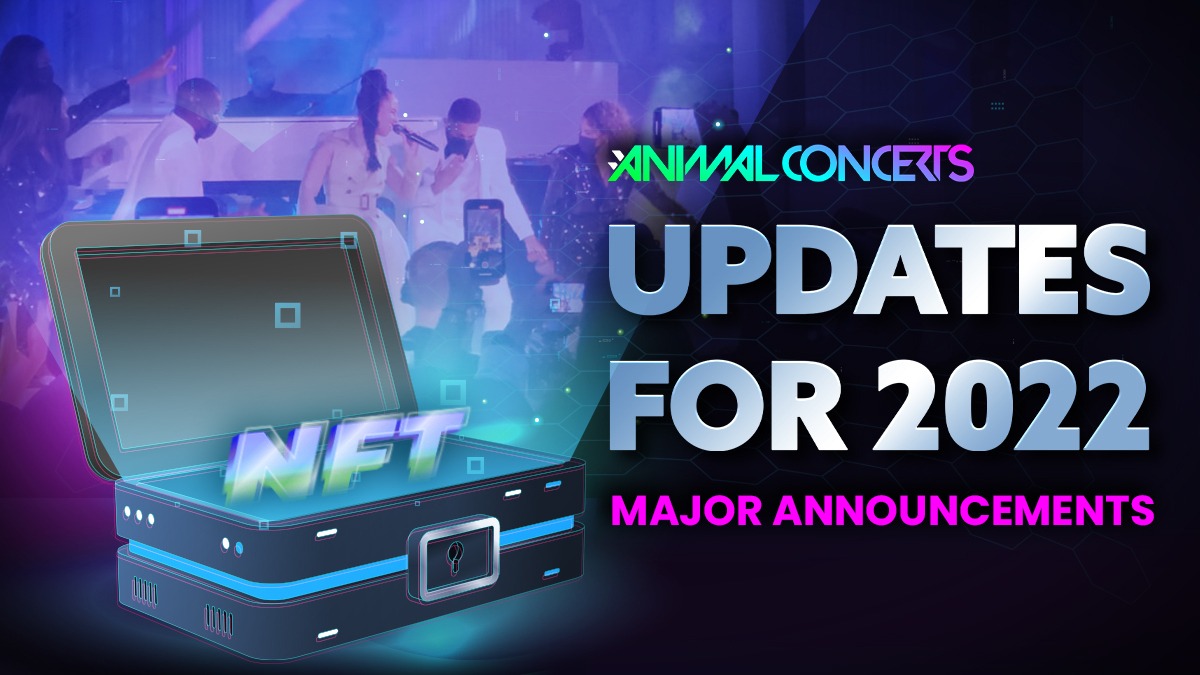 2022 has provided an incredible start for Animal Concerts, not to mention all the successful milestones that were accomplished previously. With quarter one coming to an end, we have some very exciting and promising updates to share with our community!
Let's begin with a 6-month recap for those of you who just recently joined the community.
🎵 Concerts For Days
We are confident to say that when it comes to top artists, we have all the boxes checked! The Animal Concerts team proudly worked hand in hand with: 
Future

Busta Rhymes

Alicia Keys

Meek Mill

Diplo

Gunna
Alongside forming strong relationships with said artists, Animal Concerts managed to sell out on many of our Launchpads such as; Firestarter, Polkabridge, Vent Finance, Synapse Network, Starter.xyz, Polkabridge, Enjinstarter, Trustpad, LunaPad, ApeSwap, Ignition, Spores, NftPad and DaoLaunch. This strong start which is all thanks to you, our community, has set the energy and rate at which we plan to develop and scale. With an ethos in mind of bringing people together with one of the world's universal languages, music, we have many great events and partnerships planned that will change the way people experience music.
🎵 Partnerships, Grants & Angel Investors
A major key in developing and scaling a project as promising as Animal Concerts is establishing strong partnerships with giants in the crypto world. With that being said, Animal Concerts is proud to have formed a strong partnership with Klaytn! Klaytn is an open-source blockchain that combines the best features of public and private blockchains to deliver scale and speed for all who wish to build, work, or play in the metaverse.
With the technical foundation provided by Klaytn, Animal Concerts is guaranteed to deliver the most dynamic and thorough metaverse experience to date. Their "one-stop chain" model ensures that Animal Concerts will have all native tools at our disposal to create, build and deploy timeless metaverse experiences. There is no secret as to why Klaytn was nominated for "Forbes Blockchain Top 50 2022"!
The Animal Concerts team is honoured to have received generous grants from our friends at Polygon & Klaytn. This will serve as fuel to our fire and ensure that we continue to deliver the utmost premium product to those who deserve it the most, you! With these grants in place, Animal Concerts has commenced the extensive plan for 2022, which will include; massive partnerships, a plethora of NFT launches & extensive tech enhancements.
Animal Concerts would also like to wholeheartedly thank our project backers & angel investors for your support! A massive shoutout to; Polygon, Klaytn, Netvrk, Globalstar, Brotherhood Ventures, Maven Capital, Magnus Capital, Metrix Capital, Sheesha Finance, SkyBridge 20 Ventures, Green Horns Capital, Arkn Ventures, Amesten Capital, GlobalStar, ZMT Capital & Vera – thank you for believing in our vision.
Now let's dive into what 2022 has in store for us! 
🎵 MAJOR Announcements
Animal Concerts would like to proudly announce that we are working on two MASSIVE NFT projects with 3 of the most sought-after music artists to date! Here are some details that we can share on the first project:
This NFT drop will be in partnership with 2 A-list artists based on their new unreleased song

The song will be revealed at the Grammys

It will be a mashup of two genres

This will be the biggest NFT drop to date on its partner blockchain
This premium NFT project will offer a plethora of redeemables such as; VIP backstage passes to real concerts, signed merch, whitelist for future projects and much more! Stay tuned for the announcement and make sure to act fast. –
Here are some details on the second project:
This NFT drop will consist of (a.) 100 unique physical and digital NFTs crafted as vinyl records, including unreleased tracks, for 100 lucky buyers (b.) A larger NFT drop will immediately follow.

These NFTs will be created by some of the very best NFT artists in the world. 

The drops will be in direct collaboration with the A-list artist (who has had six top 10 singles!).
If you do not get a chance to participate in these launches, do not fret! Animal Concerts has many NFT drops like these planned for 2022.
We would like to thank each and every one of you for your trust, support and most importantly, patience! Please make sure to follow us on our social platforms to stay up to date with announcements and giveaways. We will be providing monthly updates here and on our medium, so do subscribe – and make sure to stay rocking 🎸
Join our mailing list:
✉️ NEWSLETTER
[Comment, Like, Share]
👾 DISCORD
🐦 TWITTER
📷 INSTAGRAM
💬 TELEGRAM
🌐 FACEBOOK